On January 30, 1941, the eighth anniversary of his taking power in Germany, Adolf Hitler addressed the Reichstag: "I do not wish to forget," said Hitler, "the hint, that I already gave in the German Reichstag ...namely that if the rest of the world should be thrust into a war by Jewry, then all Jewry will have played out its role in Europe!...The coming years and months will prove that here, too, my prediction was correct."

By the end of 1940, the number of Jews killed by Nazi Germany approached 100,000. But in 1941 the death toll grew astronomically, as mass murder of Jews became German state policy. How that decisive turn took place, and the relation it bore to Hitler's forecast on January 30, is not exactly clear. What is certain is that in 1941 about one million Jews lost their lives.

A report about a significant part of those losses went to the Berlin office of Reinhard Heydrich, chief of the Security Police and Security Service, on October 2. Designated as "Operational Situation Report USSR No. 101," it briefly summed up the work of Einsatzgruppe C at Babi Yar, a ravine-filled area located in northwestern Kiev, the Ukraine's capital city. The report stated: "Sonderkommando 4a in collaboration with Einsatzgruppe HG and two Kommandos of Police Regiment South executed 33,771 Jews in Kiev on September 29 and 30, 1941."

From a bureaucratic perspective, this report required no elaboration. In 1959, however, a German eyewitness, Fritz Höfer, who had been a truck driver in Sonderkommando 4a, had more to say. Höfer detailed how the Germans, aided and abetted by their Ukrainian collaborators, rounded up the Jews and forced them to strip, leave their valuables behind, and enter "a ravine that was about 150 meters long, 30 meters wide, and a good 15 meters deep." He said that "no distinction was made between men, women, and children." Once in the ravine, the Jews were "made to lie down on top of Jews who had already been shot. This all happened very quickly. The corpses were literally in layers. A police marksman came along and shot each Jew in the neck with a submachine gun at the spot where he was lying." Until it was too late, said Höfer, the Jews approached Babi Yar "still under the impression that they were being resettled.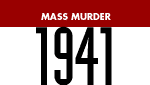 Minsk partisans Volodya Sherbateyvich (left) and Masha Bruskina are hanged, October 26, 1941.
Photo: Ada Dekhtyar / United States Holocaust Memorial Museum Photo Archive